Jim Weir Association Treasurer, Chief Referee & License Officer
Lundin Links Karate Club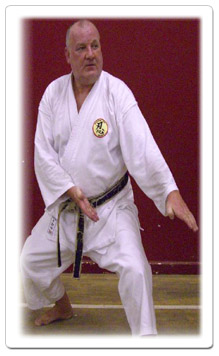 5th Dan Black Belt
Jim began training in 1983 with Bert Ford at Methil karate club, after receiving his 1st Dan opened up Lundin links club in 1991 at The Montrave hall with his son James Weir Jnr who at that time was a 3rd Dan, Jim went on to gain his Association Referee certification with SKBC in 1993, he has since refereed both National and International matches currently holding the position off SKGB Kumite referee "A" and Kata Judge "A". Jim moved with James Ford to the newly formed Association and for his sins serves as Chief referee, Licence officer / Treasurer for the association.
Jim sat and pasted this 3rd Dan on 13 June 2009 at 60 years old. He quotes "thought this was the hardest test on my fitness I have had so far. I would like to thank John Findlay, Tony Hogan and John Duffin who helped me though the training sessions to get me ready for this".
Jim was awarded "British Karate Federation" referee Kumite status 25/26th June 2011 at the "BKF" 4 Nations Championships Ponds Forge Sheffield
Jim was upgraded "British Karate Federation" Kata Judge status 6/7th October 2012 at the "BKF" Open Championships Kelvin Hall Glasgow
Jim was awarded his 4th Dan in June 2013
Jim was awarded his 5th Dan by James Ford Chief Instructor for Shotokan 2000 on 22nd November 2019.