Steve Mackay
East Neuk SK2000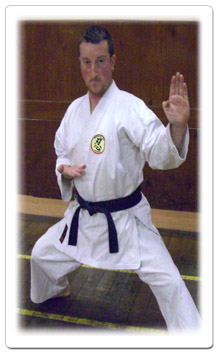 4th Dan Black Belt Shotokan
3rd Dan Black Belt Ju,Jitsu
Waid karate club was established in 2004 and its students have achieved a degree of success in its first year when they participated in the association's annual club championships. Kata and kumite produced finalists and winners at junior and senior level and the 7 competitors took a total of 10 trophies, a great achievement considering the quality from other clubs.
Steve began training in 2000 under the instruction of James Ford 6 th Dan. His dedicated training led to a successful double grading during his days as a Kyu grade and then the opportunity to sit his 1 st Dan black belt 3 months early, in august 2002.
After getting Waid karate club up and running, Steve achieved his 2nd Dan in April 2005. Steve regularly assists chief instructor James Ford and can list a number of quality instructors he has trained with including James' brother Bert Ford, Jerry Fleming, Gordon Maxwell and Bill Williamson to name but a few.
Steven sat and past his 3rd Dan on June 7th 2008
Steven was awarded his 4th Dan by James Ford Chief Instuctor for the Association on 16th december 2012