Tony Hogan
Cadham Karate Club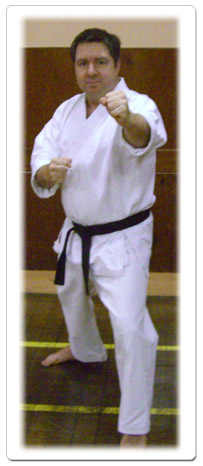 2nd Dan Black Belt
Tony began training in 1984 practising Wado Kai in Ireland. In 1987 he moved to Canada where he started doing Shotokan Karate but with work commitments being too demanding he ceased training. In 2000 he joined the Shotokan 2000 Karate association training under Sensei James Ford. As a Kyu grade Tony won the Association championship senior Kata in 2001 and was runner up in the senior Kumite final in 2002.
Tony worked his way through the kyu grades and in 2003 he was awarded 1st Dan. After this achievement Tony started to assist Sensei Ford in Cupar and Leven as an assistant instructor.
Tony went on to achieve 2nd Dan in 2005. Having trained with the Associations senior instructors from Leven, Lundin Links, Methil & Cowdenbeath, Tony found himself in the fortunate position of having a first class knowledge base allowing him to pass on what he had learned to his own students when the time came.
Cadham Karate club was established in 2006 and it has been successful in attracting new members to the association.